Last Updated on February 9, 2016 10:45 AM
---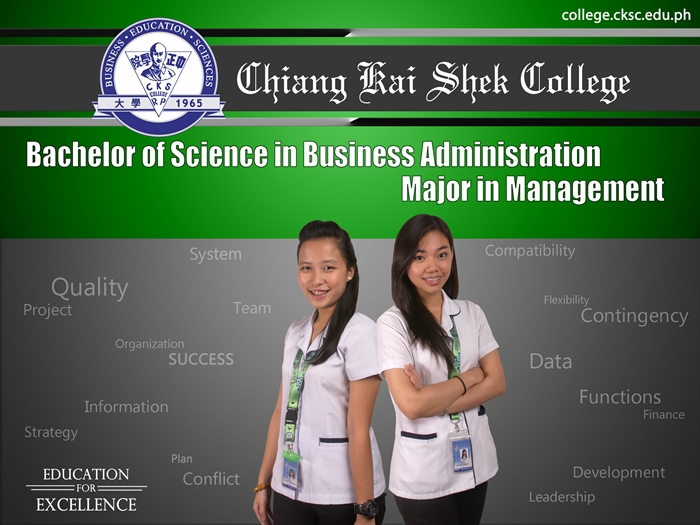 The Bachelor of Science in Business Administration Major in Management program is designed to prepare graduates for a career in various corporations whether in manufacturing, marketing, or services. Students shall be trained within the areas of human resource management (HRM) and human resource development (HRD).
Aside from the traditional functions of human resource management, students shall learn how to manage and implement administrative policies, systems, and procedures.
As per CHED Memorandum Order (CMO) No. 39, Series of 2006:
The objectives of the program are:
Help students gain complete understanding of the concepts, principles, theories, and philosophies in human resource management.
Assist students in seeking employment and facilitate the integration process in the corporate environment so that they can be immediately productive once employed.
Assist students in appreciating the HR role in the organization and how they can make meaningful contributions as a strategic partner in building the organization to become globally competitive.
Specific Professions, Careers, Occupations or Trades
Management Trainee
Office Assistant/ Manager
Administrative Assistant/ Manager
Human Resource Assistant/ Manager
Executive Assistant
Entrepreneur
Recruitment Assistant/ Manager
Compensation Assistant
Benefits Assistant
Training and Development Staff/ Manager
Operations Management Assistant/ Manager
Technical Staff
Warehouse Assistant
Inventory Assistant/ Manager
Project Assistant/ Manager
Logistics Management Personnel
Stock Personnel
Any Supervisory or Managerial Job in the Field of Specialization - Government or Private
Subjects Included in the BSBA Major in Management Curriculum :