Last Updated on April 11, 2019 11:55 AM
---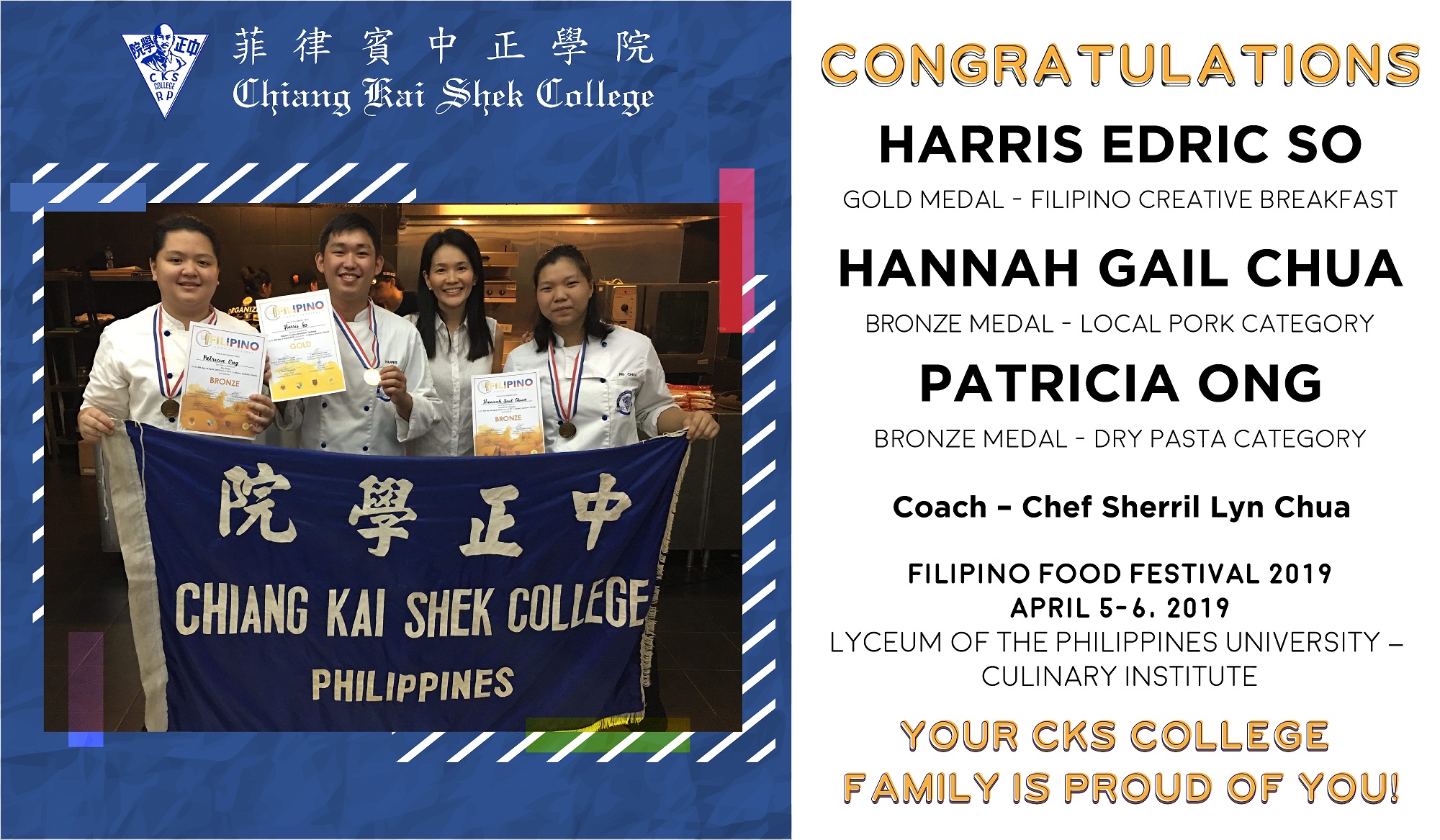 Last April 5, 2019 our Hospitality Management students competed in the Filipino Food Festival 2019 Challenges organized by the LPU-Les Jeunes Chef held at Lyceum of the Philippines University-Culinary Institute, Intramuros Manila.
The Filipino Food Festival 2019 is the first national competition organized by LPU-Les Jeunes Chef, a student organization of the LPU-Culinary Institute. The said competition was divided into two major categories: Savory category and Pastry Category. Our students competed in the savory category, namely the Filipino Creative Breakfast Challenge, Local Pork Challenge, and Dry Pasta Challenge.
Mr. Harris Edric So competed in the Filipino Creative Breakfast Challenge, Ms. Hannah Gail Chua competed in the Local Pork Challenge, and Ms. Patricia Ong competed in the Dry Pasta Challenge.
Harris created his Pirurutong Arroz Caldo, adobo-pickled Egg, 5-spiced fried shrimp tofu, roasted sampaloc-glazed chicken wings with homemade chili sauce and calamansi air for his Filipino Creative Breakfast. Hannah created her dried mango roulade with bayabas sauce, cheese pimiento-stuffed okra, mashed ube and camote, grilled native corn and blue-pea foam for her Local Pork Dish and lastly, Patricia created her malunggay-pesto rellenong pusit with black croutons and kesong puti for her Dry Pasta Dish.
In the end, Harris won with Gold Medal while Hannah and Patricia won with Bronze Medals.