Last Updated on April 8, 2019 4:25 PM
---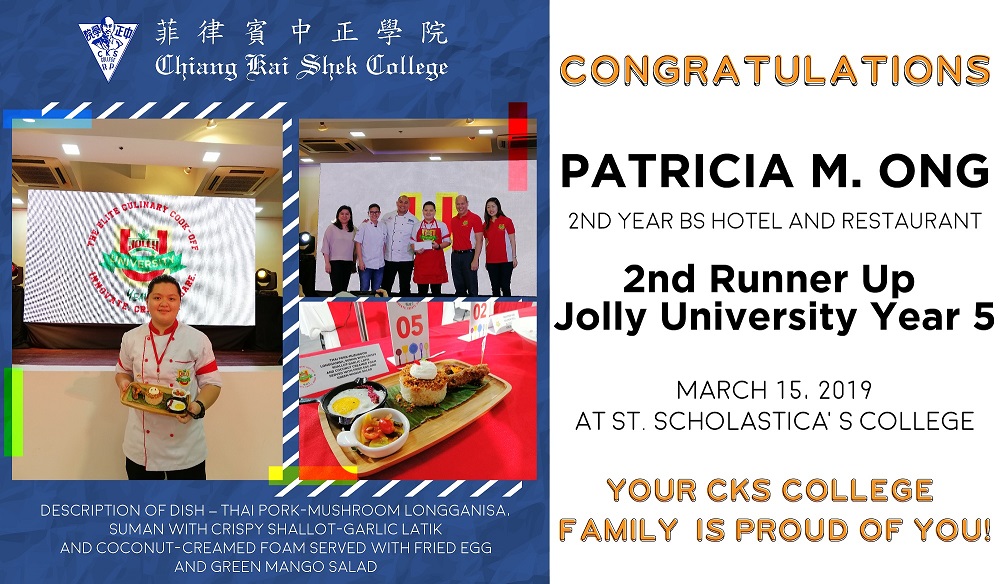 Ms. Patricia Ong, a 2nd Year Hotel and Restaurant Management Student, won 2nd Runner Up during the Jolly University Year 5 Competition.The Jolly University is an open competition for all aspiring and talented young cooks which aims to test the kitchen skills, creativity, and innovation. This year's theme was "Innovate, Create, Share". The competition conducted an elimination round where all young cooks sent their recipes to Jolly and was judged according to their creativity and the theme.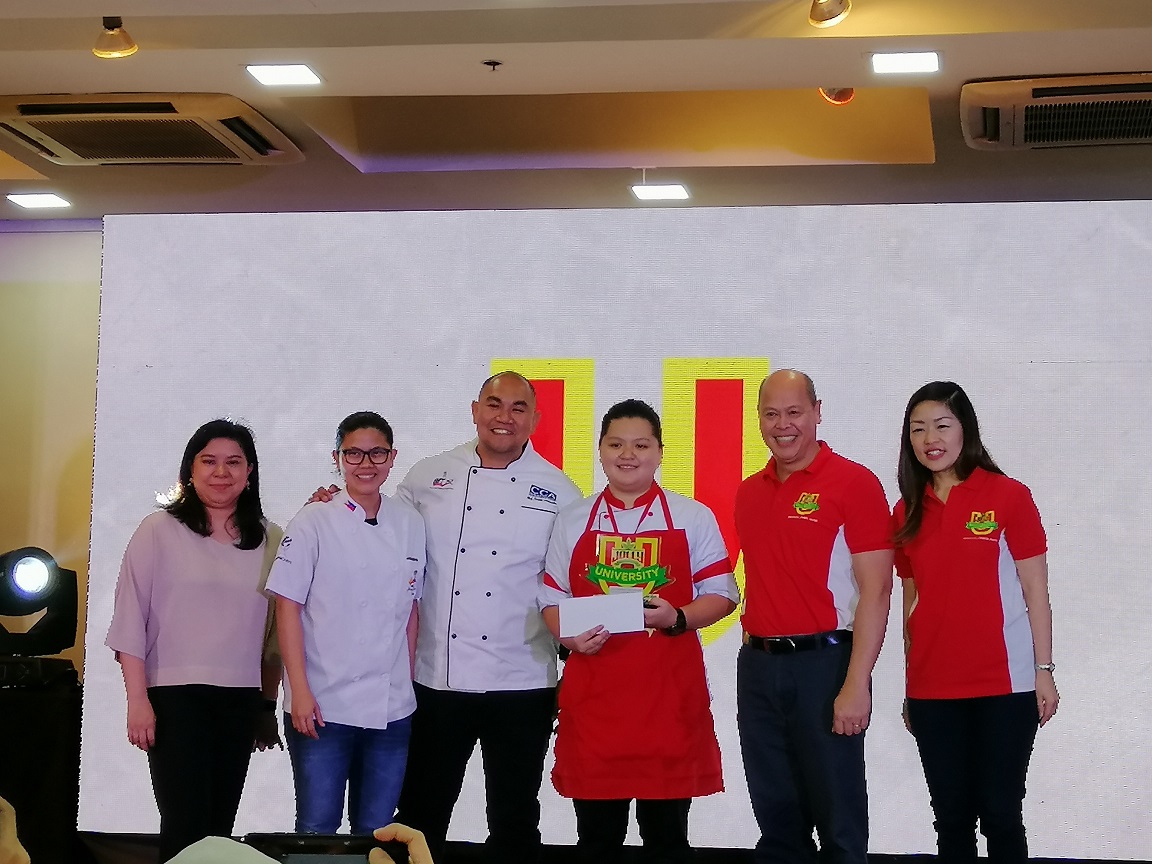 Luckily, Patricia made it to the Top 20 where she faced off in another round of elimination round last March 15, 2019 at the St. Scholastica's College, Manila where the Top 20 battled out to make it to the Top 10. During the Top 20 elimination round, the young chefs where tasked to create a dish with a theme "Modern Filipino" where they had to reinterpret a classic Filipino dish to a modern one and had to use at least one (1) 400g can of Jolly Mushroom. Patricia's dish was "Pork Hamonado served with Steamed Coconut Milk Bunete". Eventually she made it to the Top 10. She was coached by our very own HRM Faculty, Chef Sherrill Chua.
The grand cook off was the final round participated by the top 10 was themed "fusion". In this category, the dish should be a combination of two distinct cuisines using any jolly product. CKSC's very own Patricia created a Thai cuisine consists of mushroom longanissa, suman with crispy shallot garlic latik and coconut creamed foam served with fried egg and green mango salad. The competition was joined by several universities and colleges around Metro Manila, South Luzon and Central Luzon such as University of Santo Tomas, EARIST, Metropolitan Medical Center College of Arts, Science, and Technology, San Sebastian College-Recoletos, Far Eastern University, Manila Tytana Colleges, St. Joseph College Quezon City, Emilio Aguinaldo College, Lyceum of the Philippines University-Manila, CEU Makati, NCBA Fairview, San Juan de Dios Educational Foundation Inc. College, and St. Scholastica's College, Manila.